Montracon's Rigid Beavertails are manufactured on site to the highest quality specification.
Montracon's Rigid Beavertails range carries the same vast manufacturing experience within the design and build as the rest of the Montracon product range. Working closely with our customers, Montracon can offer quality truck plant bodies with maximum payloads for transporting all types of vehicles.
The type of vehicles that Montracon's Rigid Beavertails can transport are heavy plant machinery, agricultural equipment and utility vehicles. Montracon's Rigid Beavertails are also ideal transporters for low ground clearance equipment, such as powered scissor lift and access platforms.
As well as this, a key benefit of purchasing one of Montracon's Rigid Beavertails is the after sales support that you receive as part of Montracon's one stop shop approach to trailer manufacturing. Some of these services include warranty and support, finance support, a dedicated parts service and repair centre.
Montracon have been out and about and promoting the benefits of the Rigid Beavertails, visiting companies nationwide, as well as attending trade shows. During this time, a lot of questions get asked about our product range and the Rigid Beavertails are no different.
With this in mind Montracon's National Sales Manager for Specialist products, Jeff Wright, has compiled a Q&A of some of the most popular questions that have been asked of the Montracon sales team and staff.
What models do you offer?
"From 7.5 tonne gross weight up to 32 tonne 8 wheelers"
Do you offer different ramp configurations?
"We offer various ramp options from alloy clip on type to hydraulic single, full width, double-flip and wedge"
What about different floors?
"We have a choice of floor. Hardboard, Rhinoboard, Fibre deck and full or part mesh faced"
With ever increasing emphasis now being placed on Health & Safety, what options can Montracon provide to help reduce avoidable accidents?
"The options that Montracon have to reduce avoidable accidents are as follows"
Single or twin strap edge protection
Swing out edge protection
Pull-out gripped walkway system
Dropside
Access ladders and grab handles
Back-chat alarms, sensors and reversing cameras
Anti-slip grip paint and/or tape
What unique selling points do Montracon Beavertails have?
"The unique selling points that Montracon Beavertails have are"
One stop shop – we can assist in chassis purchase as well as the body manufacture
In-house paint system and applications
Stainless steel ram stems
Unique designs with strength in engineering
Listen to what you want with bespoke manufacturing
Electric pull-out walkways
Low profile
Montracon has authorised repair agents geographically positioned to cover the whole of the British Isles
Bodies with curtainsider are built by Montracon, so there's no need for the involvement of several manufacturers

If you need to ask any more specific questions about Montracon's Rigid Beavertails product range then visit our website or why not give us a call on 01302 732500 (opt 1).
Montracon's Rigid Beavertails are a popular product for our customers, this is down to the quality of the workmanship and the after sales care that Montracon provide. Montracon's company motto is 'Quality, Strength, Durability Built In' and this transcends into every product that Montracon manufacture.
Montracon's Rigid Beavertails customers are happy to endorse the quality of the products, here is just what one of Montracon's satisfied customers had to say about their Rigid Beavertail:
"Gap Group has been a Montracon customer for the last couple of years. The trouble we have is finding a decent bodybuilder that is willing to meet our standard. What we want isn't bespoke: it's the build quality that we want. Montracon communicate with us right through the build process and communication is key. They deliver driver training which is important to reduce road traffic incidents as well as improving health and safety."
Montracon are committed to providing quality products for our customers and we are regularly putting out articles and updates on our products that we feel our customers will find beneficial. Whether it's a new product range or new service we are offering we'd like you to be the first to hear about it.
What's more is that you will receive a free gift when you sign up. So if you would like a FREE Montracon notebook and pen and hear more about our products, then click the advert below.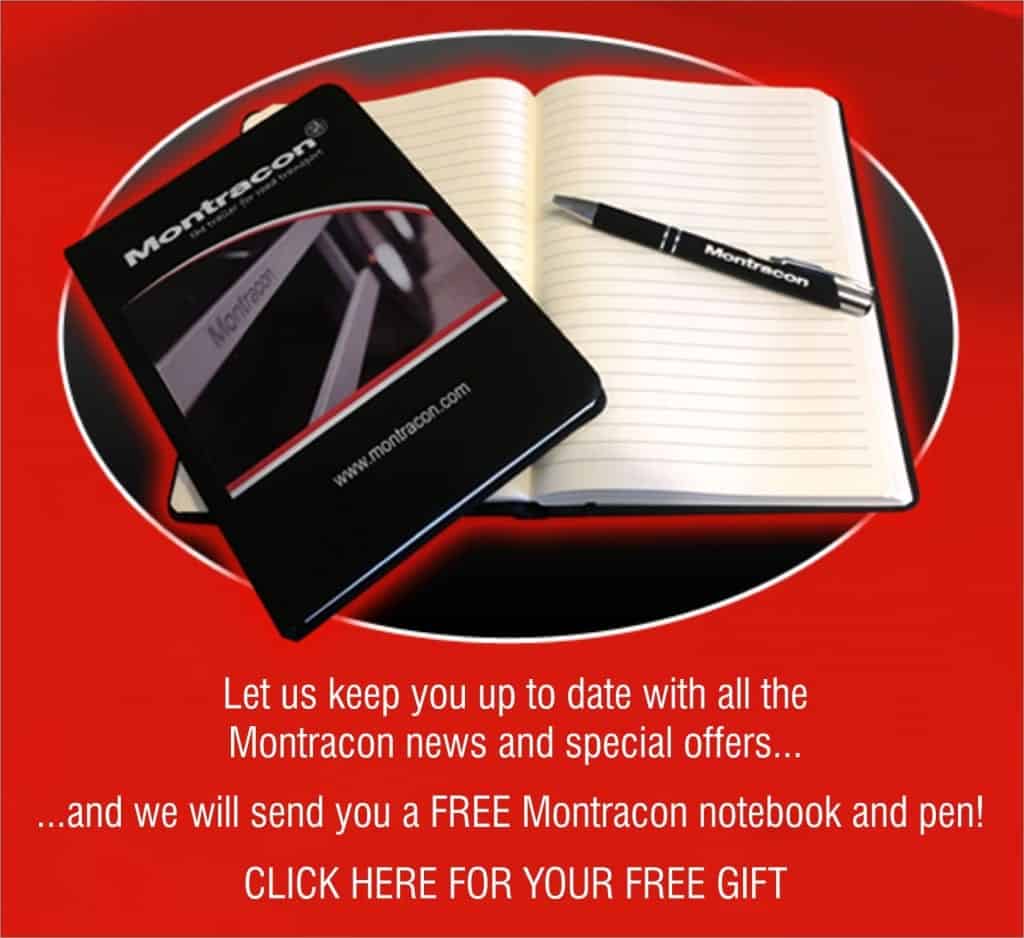 Finally, if you have any questions about Montracon's Rigid Beavertails range please email us on sales@montracon.com or ring us up on 01302 732500 (opt 1), alternatively have a more in depth look at our new website here.