A blend of high technology, accumulated experience and traditional trailer manufacturing skills. Montracon's engineering excellence is the benchmark for others to aspire to. Its hall mark being the company's use of the most advanced hightech equipment available to complement the wealth of experience and traditional skills that the manufacturing and assembly line teams have accumulated.

This blend has been further enhanced, more particularly over recent years, by major extensions to facilities that have been driven by the need to continually re-map production flows and flexibility to match the still increasing model offering and rising demand across all ranges. That said, Montracon's production excellence is founded on solid engineering principles, with quality, reliability and longevity being the company's underlying values.
These values ensure that all trailers bearing the Montracon name are manufactured to the highest standards. The success of this approach manifests itself not only in the increasing number of new customers for Montracon trailers, but also in the increasing numbers of customers who return with repeat orders – surely a clear endorsement from truck operators that the Montracon trailer delivers, not least on the bottom line.
With Montracon's head office in Doncaster and it's Manufacturing sites at Doncaster, England and Mallusk, Northern Ireland, that have distinguished track-records of trailer production, each Montracon site works in harmony with an highly skilled and experienced workforce building what is probably the widest range of trailers available from any of the major European players.
In addition to its state of the art manufacturing facilities, Montracon has a dedicated refurbishment and repair facility near York, England which offers accident repairs, refurbs (all makes and models) fabrication or bodywork repair and repaint or livery upgrades. To complement its after sale service Montracon also has numerous parts depots located throughout the country which provides ALL makes of trailer parts.
Montracon Repair Centre (Now Market Weighton)
Take a tour around one of our state-of-the-art production facilities
Let us keep you up to date with all the latest Montracon news and special offers…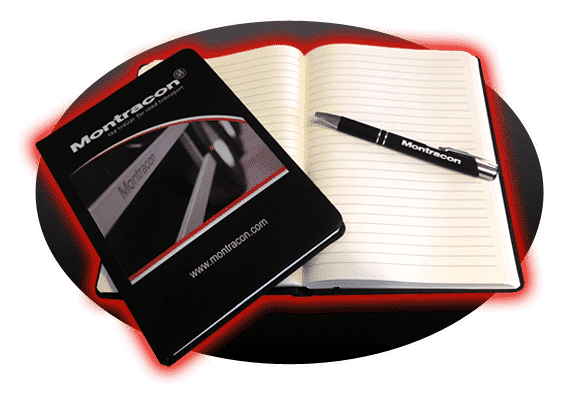 …and we will send you a FREE Montracon notebook!
This was our first order from Montracon and this was mainly due to the fact that Bob kept in touch with us over the last few years even though we were buying from SDC, the service from Bob was excellent and nothing was too much trouble. The service after the order was placed was again very good and excellent communication throughout.
Very good, efficient, and prompt in my limited experience. It was my first purchase from Montracon and I dealt with Jeff Wright and everything went very well. Thank you
The two trailers we bought are of excellent quality and we are happy with our purchases. The attention to detail from your sales manager was exemplary. We will be returning to Montracon in the future.
As I have 13 Montracon trailers out of a total of 19 trailers the numbers say satisfaction with the product.
I am over the moon with our new trailer. It's working great and the rear steer feature is worth every penny. I'd like to say a big thank you to everyone at Montracon. The sales and engineering team worked with me to make sure the specification met my requirements.
Thank you superb service. Mr Jeff Wright our sales contact was in contact from start to finish and checking on our requirements at all times of day and night. The completed trailer is 100% as we required, first class. Credit to Montracon.
I'm extremely happy with the quality of the curtainsiders that we receive from Montracon. Not only are the trailers of the highest quality, but the level of service really makes a difference as well. It's fair to say that the quality that Montracon provide really does fit in with our core brand values.
We have only ever bought new trailers from Montracon, we have always found that the product exceeds our expectations.
Lloyd Walsh our Area Sales Manager is very easy to deal with and understands our needs. Trailers were completed within the given time frames, thank you to all the team at Montracon.
Montracon
The main advantage of Montracon having new trailers available is that there is virtually no lead time. At the moment we have a wide range of new stock that is ready and waiting for [...]
Montracon
This content is password protected. To view it please enter your password below: Password:
Montracon
Montracon's sliding body flats are ready and available to add efficiency and versatility to your business. Sliding body flats have emerged as a revolutionary innovation in the trailer industry, offering a host of benefits [...]