MT39 Machinery Carrier (Access Specification)
Montracon has expanded its machinery carrier trailer range for the UK and Ireland following the successful introduction of the three-axle MT45 fixed bed machinery trailer launched in 2017. Now the company is releasing the three-axle MT39 to the range specifically targeting the access platform industry.
The MT39 Machinery Carrier (Access Specification) is plated to 39 tonnes, Montracon says the MT39 will speed up loading and unloading as it comes as standard with a 500mm deck to neck height double taper gooseneck. Offering a shallow 10-degree gradual neck and beavertail slope, the option of clip-on or hydraulically powered lead-on rear ramps, retractable legs at the rear and ample side and deck lashing rings/cleats are just a number of pre-designed options on offer. Contact our team today for a tailored quotation.
Plated up to 39-tonne gross trailer weight
Low profile loading incline to rear and neck area
300mm heavy-duty side rave
BPW axles
Rear steer axle option
Pre-engineered optional features for versatility and flexibility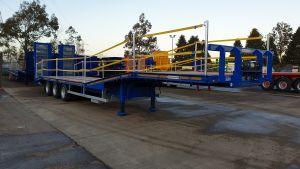 Really Useful Products said:

"It is not just the quality of the trailers from Montracon that keep us coming back and ordering more, but the whole package. It is important for us to have a reliable trailer partner in our business, and Montracon is definitely that."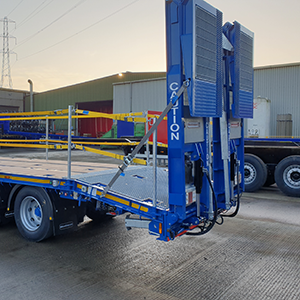 RAMPS
The 3 axle machinery carrier is equipped with 4000 x 1000mm double flip hydraulic ramps with side shift. Depending on your operation these can be adjusted to meet your requirements and can be operated with a radio remote.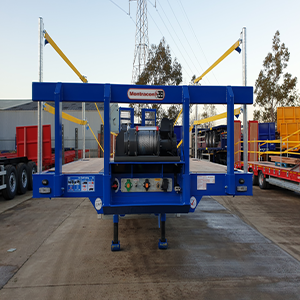 WINCH
The 3 axle machinery carrier comes standard with a high specification electric winch. Contact our team to find the right option for your operation.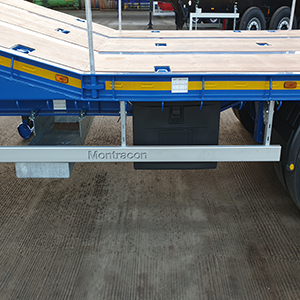 STORAGE OPTIONS
We also have several storage options including underslung tools or equipment, toolboxes, storage trays and much more. Our team are more than happy to find the right solutions for you, so contact us today.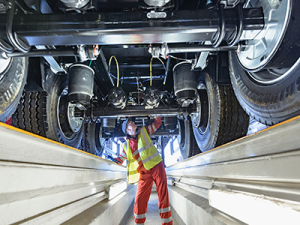 COMPREHENSIVE WARRANTY
Our standard trailer warranty periods and terms are amongst the best in the industry. In the unfortunate event of a trailer breakdown, you need to have the peace of mind that support is at hand to get you moving again.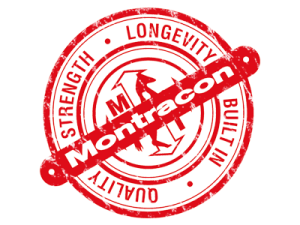 QUALITY, STRENGTH, LONGEVITY
 Montracon's production excellence is founded on solid engineering principles, with QUALITY, STRENGTH, LONGEVITY being the company's underlying values.