Our Locations
With Montracon's head office in Doncaster and it's Manufacturing sites at Doncaster, England, and Mallusk, Northern Ireland, that have distinguished track-records of trailer production, each Montracon site works in harmony with a highly skilled and experienced workforce building what is probably the widest range of trailers available from any of the major European players.
In addition to its state of the art manufacturing facilities, Montracon has a dedicated refurbishment and repair facility near York, England which offers accident repairs, refurbs (all makes and models) fabrication or bodywork repair and repaint or livery upgrades. To complement its aftersales service Montracon also has numerous parts depots located throughout the country which provides ALL makes of trailer parts.
Doncaster – Head Office
Montracon's head office is situated in the heart of Doncaster just off the M18 corridor, Montracon purchased a 21-acre site on Carr Hill in 1989. Since opening Montracon has continually invested in the site including the recent £5million pound state of the art semi-automated shot blast and paint facility which is seeing steady improvements in its production flow and processes.
Doncaster is the home to some of Montracon's most well-known products such as Curtainsiders, Double Decks, Box Vans & Fridges creating a centre of excellence for all its bodied product offering.
If you would like to visit our centre of excellence here in Doncaster click here to register your interest in a factory tour.
Ireland
Montracon first started building trailers back in 1977 from a small warehouse in Mallusk, Newtownabbey – Northern Ireland. Due to the growing demand for its products and services, just some 3 years later Montracon built a 36,000 square foot factory adjoining the original site to allow for increased production. It is at this very same site that today Montracon's Flat, Skeletal, Tipper, Rigid-Beavertails, and Machine Carrier products are manufactured.
Montracon Repair & Referbishment Centre
Based in Market Weighton this centre provides a practical service for repairing, refurbishing and MOT preparations for all makes of trailers.
If you would like more information about the services we offer click here or call 01302 732500.
Used Trailer Centre
Woodville is home to Montracon's Used Trailer division where there is access to a wide range of used trailers for sale. By using the Ballyvesey Used Locator website you can access our current stock 24/7. Whether you are looking for ambient or refrigerated trailers, Montracon has a wide range of used trailers to meet your requirements. We also deal in a variety of makes and models so well. If you can't find the trailer you want in the market place please ring 01302 732546 and we will do our best to help.
Take a tour around one of our state-of-the-art production facilities
Let us keep you up to date with all the latest Montracon news and special offers…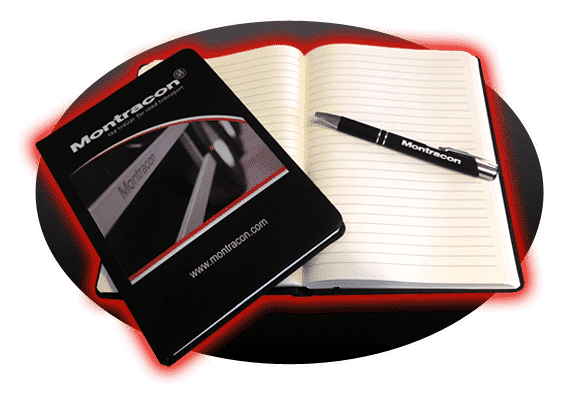 …and we will send you a FREE Montracon notebook!
The two trailers we bought are of excellent quality and we are happy with our purchases. The attention to detail from your sales manager was exemplary. We will be returning to Montracon in the future.
Lloyd Walsh our Area Sales Manager is very easy to deal with and understands our needs. Trailers were completed within the given time frames, thank you to all the team at Montracon.
As I have 13 Montracon trailers out of a total of 19 trailers the numbers say satisfaction with the product.
I am over the moon with our new trailer. It's working great and the rear steer feature is worth every penny. I'd like to say a big thank you to everyone at Montracon. The sales and engineering team worked with me to make sure the specification met my requirements.
Very good, efficient, and prompt in my limited experience. It was my first purchase from Montracon and I dealt with Jeff Wright and everything went very well. Thank you
I'm extremely happy with the quality of the curtainsiders that we receive from Montracon. Not only are the trailers of the highest quality, but the level of service really makes a difference as well. It's fair to say that the quality that Montracon provide really does fit in with our core brand values.
This was our first order from Montracon and this was mainly due to the fact that Bob kept in touch with us over the last few years even though we were buying from SDC, the service from Bob was excellent and nothing was too much trouble. The service after the order was placed was again very good and excellent communication throughout.
We have only ever bought new trailers from Montracon, we have always found that the product exceeds our expectations.
Thank you superb service. Mr Jeff Wright our sales contact was in contact from start to finish and checking on our requirements at all times of day and night. The completed trailer is 100% as we required, first class. Credit to Montracon.
Montracon
The main advantage of Montracon having new trailers available is that there is virtually no lead time. At the moment we have a wide range of new stock that is ready and waiting for [...]
Montracon
This content is password protected. To view it please enter your password below: Password:
Montracon
Montracon's sliding body flats are ready and available to add efficiency and versatility to your business. Sliding body flats have emerged as a revolutionary innovation in the trailer industry, offering a host of benefits [...]