James Smith (Denny) Ltd lifted Scotland's Top Trailer Fleet title at the annual Transport News Scottish Rewards presentation ceremony held in Glasgow on Friday 8 November 2019.
The popular breakfast celebration, now in its 26th year attracted 600 road haulage industry guests and filled the banqueting suite of the Crowne Plaza Hotel.
In this year's Scottish Rewards, a number of anniversaries came to the fore, but a centenary is something special, such as that being celebrated by 2020 Top Trailer Fleet, James Smith of Denny whose navy blue trucks and trailers have been an instantly recognised part of the Scottish trunk road scene over the past decades.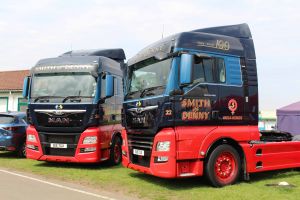 It was James Smith who started the business in 1919 to serve his local community of Denny, particularly coal merchants and paper mills. Not surprisingly the company grew into general haulage and distribution, to the size it is today and of course it has remained a family business with various generations still involved.
Centenary celebrations came to a head with a lengthy party over two days at Truckfest Scotland, so tidying off the big year in style, Conor Smith came forward to accept the award of Scotland's Top Trailer Fleet. Montracon are the proud sponsor of this award and Derren Benfold (Montracon's Regional Sales Manager) was on hand to present Scotland's Top Trailer Fleet to James Smith (Denny) Ltd..