The MT45 Machinery Carrier Makes is Debut
The demands placed on the 'simple' semi-trailer dictate that its specification varies to meet the wide and diverse needs of the many industries it serves. Perhaps the best example of this is the plant/machinery carrier, a specialist trailer that can be called upon to move all manner of equipment from machine tools to quarry loaders, excavators and, quite often, a mix of the same and all in between.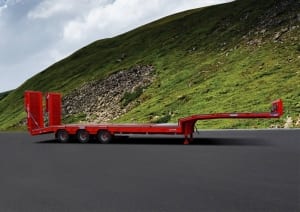 And that's where Montracon's New MT45 machinery carrier comes in; in essence, the company has taken a leaf from the car industry by engineering a standard specification base line common platform, with a range of optional modules, that at the ultimate level provide a trailer with unrivalled load versatility and its owner with optimum operational flexibility.
Visit Montracon in Hall 3, stand 3A63 at the up and coming CV Show, NEC Birmingham 25-27 April for more details.