40 Years of manufacturing trailers for Montracon
2017 sees Montracon celebrate it's 40th anniversary
Since 1977, from humble beginnings in Ireland, the company has steadily built up it's product portfolio and brand presence. Montracon can now boast a multi million pound business spread across numerous sites in Ireland and the UK. This is a far cry from the companies inception in 1977.
Initially building tandem axle flat platforms, skeletals and box vans in Mallusk, Northern Ireland; the company and the product portfolio continued to grow and due to the increase in its order book Montracon very quickly out grew its original factory. On securing manufacturing sites in both Northern Ireland and England, and through key acquisitions the business continued to go from strength to strength.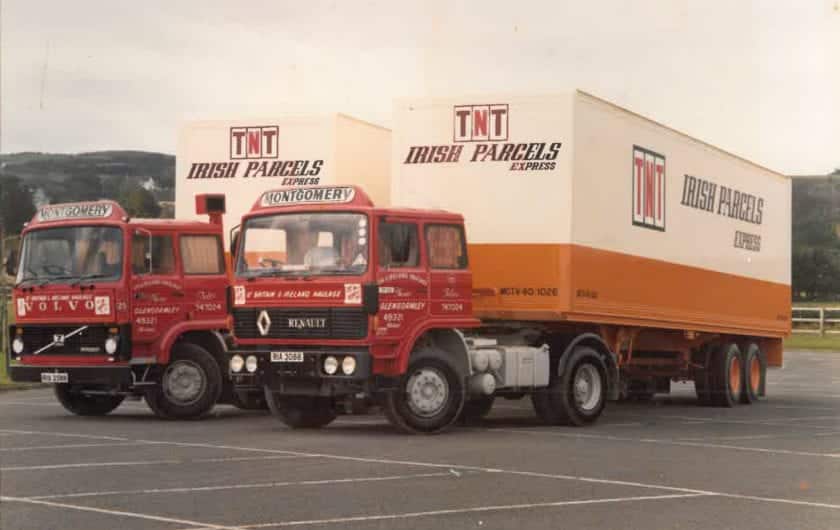 Early tandem axle box vans built in Mallusk.
Montracon is now a leader in manufacturing trailers across the UK and Europe. The principles for success remain the same now as they did 40 years ago. Combining research and development with highly skilled engineering ensures Montracon products are of the highest quality. Along with this commitment to quality, the companies success is also built on comprehensive customer care.
For over 40 years Montracon have been delivering the goods
Over the years Montracon's product portfolio has also developed through strategic acquisitions and engineering innovation. Montracon's trailer manufacturing now consists of a wide range of products, made to order in its fully equipped factories. These products include, Curtainsiders, Double Deck Curtainsiders, Box Vans, Fridges, Skeletals, Machine Carriers, Flats and Tippers.
As well as manufacturing a wide selection of trailers, Montracon also offers high quality used trailers, an after sales parts service and repairs/reburbs. With warranty, financial support and up to a 5 year guarantee, Montracon will make sure that you are well looked after beyond the initial purchase of your trailer.
Here's to the next 40 years
Montracon will continue to manufacture high quality trailers delivered with first class customer service for years to come. So here's to the future…
Please call us on 01302 732500 to order, enquire or find out more