Our new website has been launched this Spring and features an exciting new visual design.
There is a strong emphasis on imagery with our new website. With a heavy investment last year on improving the facility at Doncaster, we wanted the website to visually show this investment through strong imagery and video.
At Montracon we start in our factories with bare steel and build your trailer chassis and body from this. All fabrication is Montracon fabrication, all painting is Montracon painting, all wiring, piping, axle installation and body build is done in-house. We are a true one-stop shop.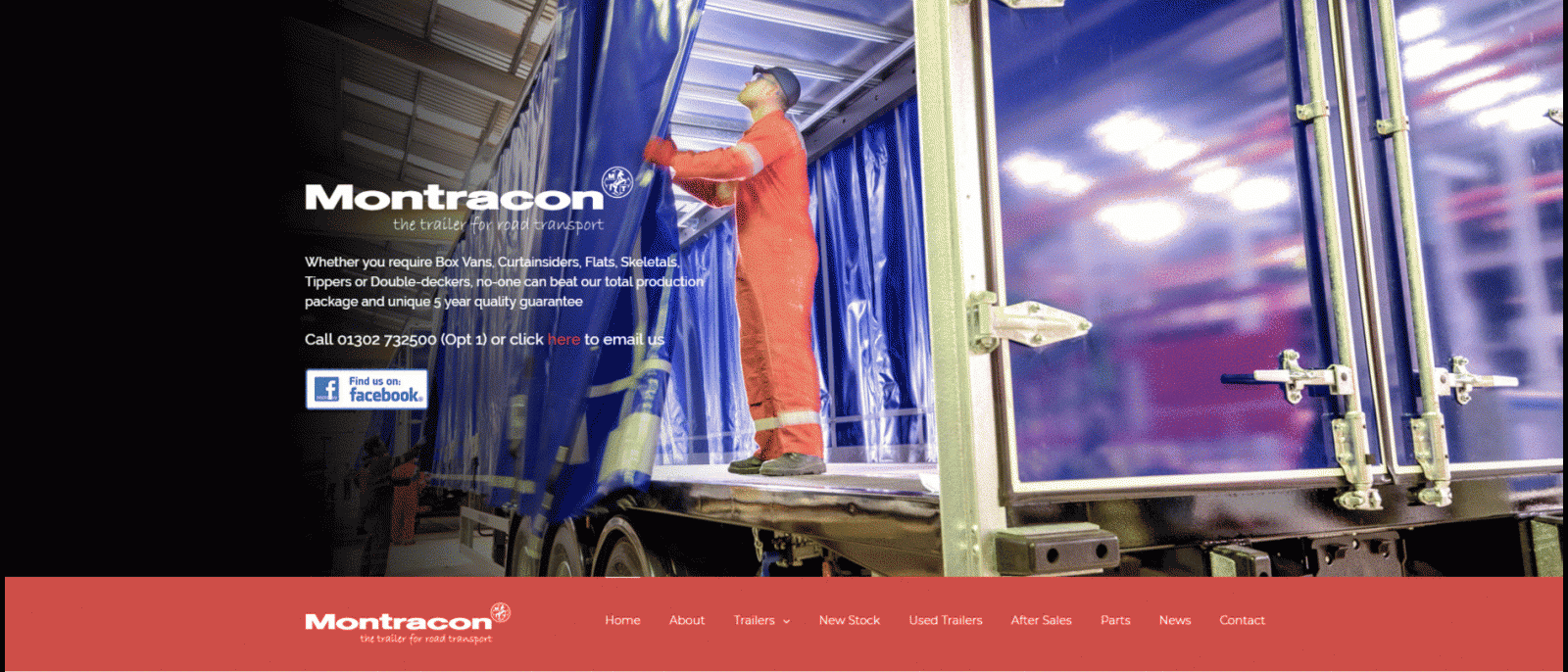 Montracon's new website features the full range of manufactured products that Montracon produce which includes:
These trailers all come with Montracon's unique quality guarantee and are manufactured to the highest quality industry standard. Montracon's highly skilled and experienced workforce working at its flagship site in Doncaster, building what is considered the widest range of trailers available from any of the major European players.
Montracon's new website also features a range of used trailers that are ready for immediate sale. It's not just the new and used trailers that feature on the site, Montracon have an extensive range of after sales services, including:
Repair and Refurbishment
Our dedicated repair and refurbishment centre located in a purpose-built facility near York is equipped to handle superficial, major repairs and full 2nd life refurbishment; efficiently and effectively, with the fastest turnaround possible.
Parts Service
Our nationwide parts service can provide parts for existing and previous models and our tremendous buying power is conveyed directly to you, our customer, by way of our competitive aftermarket pricing. To keep your trailer up and running this service needs to be fast, flexible and reliable. At Montracon, we have 24/7 around the clock coverage, with parts deliveries co-ordinated from numerous strategically located regional distribution centres.
Warranty and Support
Our warranty is managed in-house, where we have access to a geographically strong network of 150 authorised repair agents covering the British Isles. We provide a comprehensive paint and structural warranty and an optional extended warranty on axles and EBS braking systems. We also provide refurbishment and repair facilities that are fully warranted and are again in-house and part of our bespoke service.
Finance Support
Montracon Limited can arrange finance support through a division of its parent company Ballyvesey Holdings Limited. Ballyvesey Holdings Limited is Authorised and Regulated by the Financial Conduct Authority. Ballyvesey Finance is able to offer a comprehensive suite of financial products to help you acquire your trailers.
We hope you enjoy browsing our new website and if you need any more information about our products or services please get in touch.