Montracon's Repair Centre can repair and refurbish all types of trailers, not just Montracon trailers, but all major makes and brands as well.
Montracon's Repair Centre is an integral part of our committed after sales care that we provide for all Montracon trailer customers. It's what sets us apart as the trailer manufacturer of choice. You can rest assured that we are here should you require repair or refurbishment of your trailer.
We are totally committed to providing an after sales service that exceeds our customer's expectations. As part of this commitment Montracon has a dedicated refurbishment and repairs centre in a purpose built facility at Wilberfoss near York. This facility can handle superficial, major repairs and full 2nd life refurbishment.
We don't just refurbish and repair Montracon trailers either. We also repair and/or refurbish all makes of trailers including SDC, G&A, Cartwright, Chereau, Lawrence David and many more. A typical example of the quality of work that we do can be seen in the before and after video shot below.
The service that we offer at our repairs centre in York includes:
Body Refurbishment

Roof Repairs / Replacements

GRP Panel Repairs

Curtain Repairs / Replacements

Interior Repairs

Repair of all Types of Door Systems

Chassis Repairs

Running Gear Servicing

Paintwork Touch-up / Re-spray

Comprehensive Livery Service
We have been out promoting the quality service that our Repair Centre provides, visiting companies nationwide, as well as attending trade shows. During this time, a lot of questions get asked about our product range and our repair centre services are no different.
With this in mind Montracon's Repair Centre After Sales Manager, Keith Sowerby, has compiled a Q&A of some of the most popular questions that have been asked of the Montracon sales team and staff.

Do you need a Montracon Trailer to use your services?
"No, we can refurbish all manufactures trailers including Montracon, SDC, Cartwright, Gray & Adams and all the other competitors too."
What type of repairs do you do?
"We do all manner of repairs including: bridged trailers, accident damage and wear and tear. The Repair Shop workshop can facilitate any size trailer, make or configuration."
Do you do refurbishment work?
"Yes, we do. Our quality refurbishment work will extend the working lifetime of a trailer up to 5 years. Examples of our finished work can be seen in our before and after photos right here."
What is your turn around time on repairs?
"This will depend on the work undertaken for the customer, but we guarantee that the work will be carried out in the most effective and efficient way possible."
Are you able to do bespoke design and fabrication work?
"We do bespoke work and have a wealth of technical and engineering skills in the workshop. We are able to reconfigure any type or make of trailer to suit any requirements you may have."

As well as this, we can also offer a comprehensive accident repair service and liaison with insurance companies and their assessors, to provide a full one stop service.
To find out more about out trailer repair centre or for an estimate please email repairs@montracon.com or contact Neil Stott (07949 709336) or Keith Sowerby (07990 797523)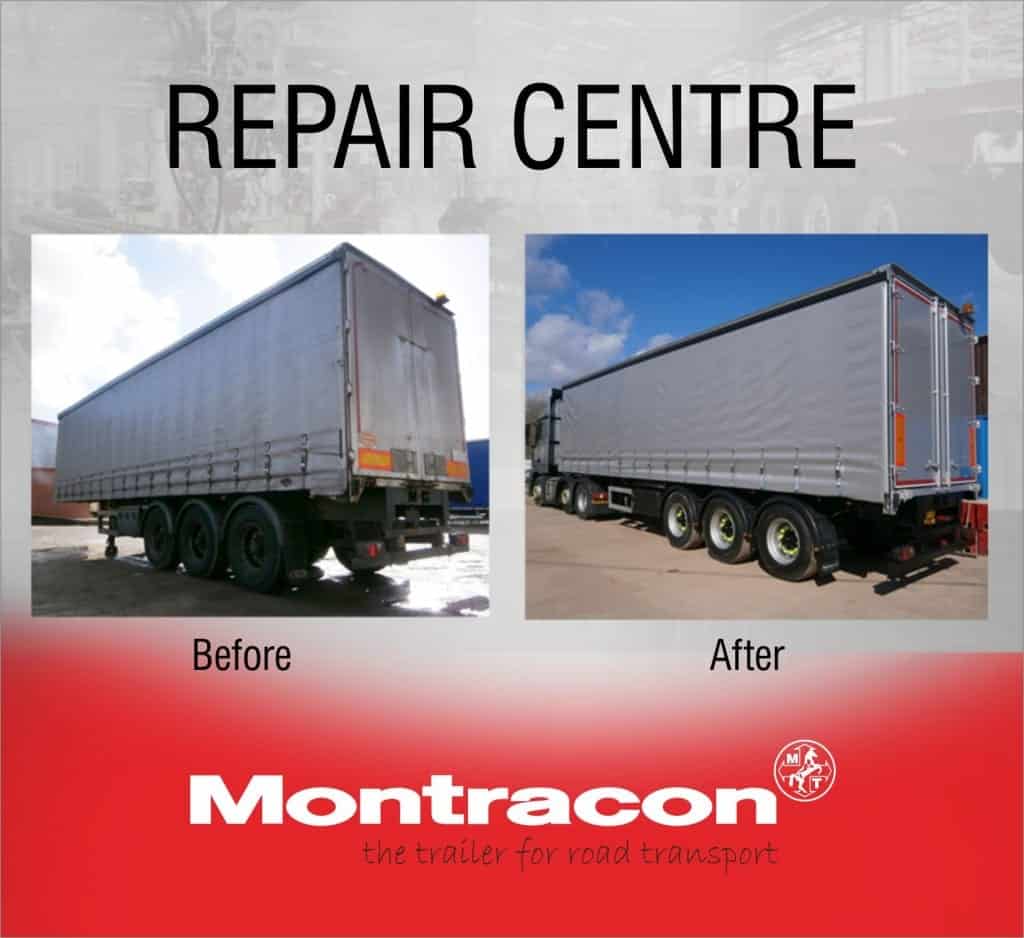 Montracon's Repair Centre customers are happy to endorse the quality of the repairs that they receive, here is what one of our satisfied customers had to say about their recent Repair Centre experience:
"The Montracon Trailer Repair/Refurbishment Centre in York carried out a full and extensive refurbishment programme on four of our old Boalloy specialised trailers working out of our SSE Newbury depot in Berkshire. The finish of each trailer was of the highest quality, I can add that they were all done on time and within the budget agreed upon for each refurbishment. SSE are very proud to have these trailers back on the road working hard and looking as good as new."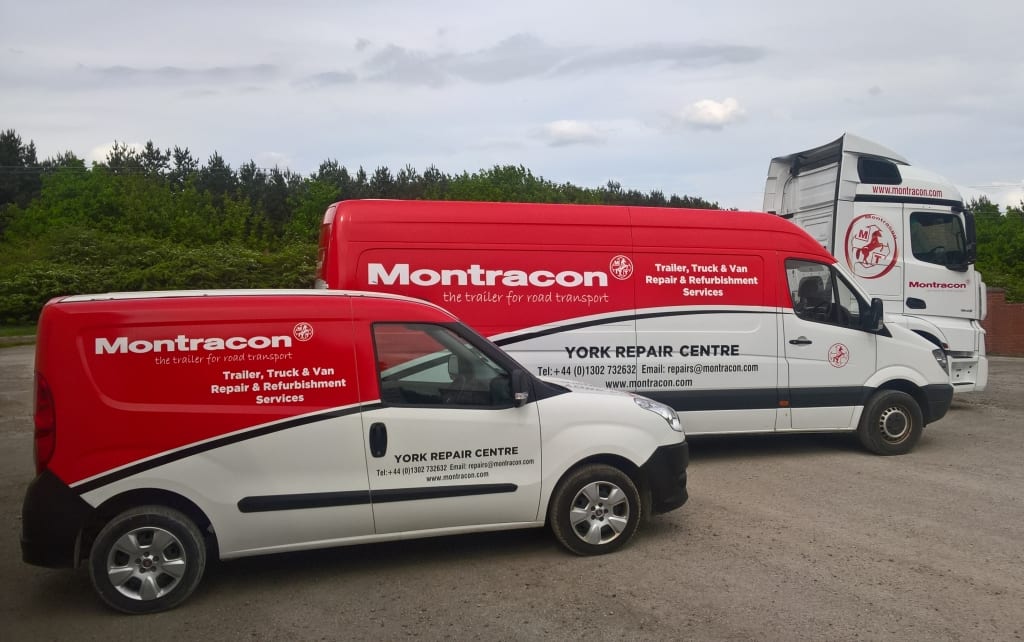 Montracon are committed to providing quality products for our customers and we are regularly putting out articles and updates on our products that we feel our customers will find beneficial. Whether it's a new product range, a new trailer parts offer, or a new service we are offering, we'd like you to be the first to hear about it.
What's more is that you will receive a free gift when you sign up. So if you would like a FREE Montracon notebook and pen and hear more about our products, then click the advert below.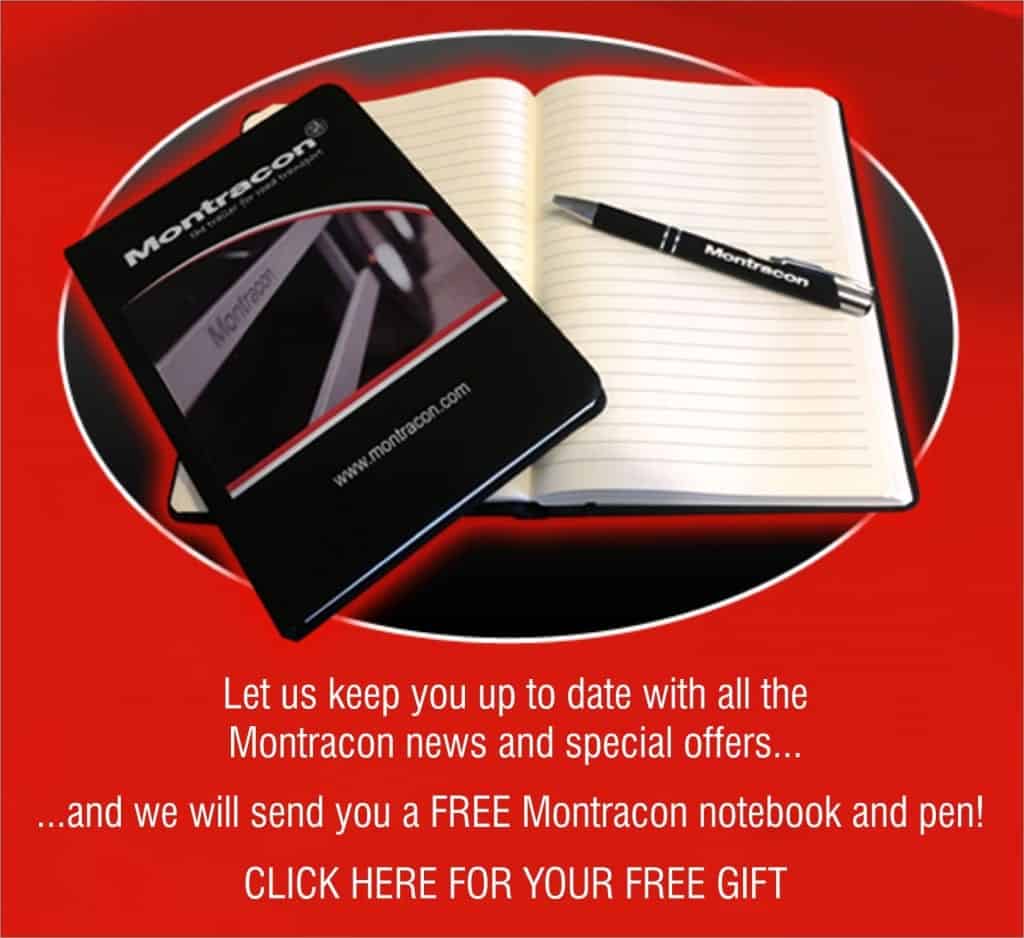 Finally, if you have any questions about Montracon's Repair Centre or any other of Montracon's products or services, please email us on repairs@montracon.com or ring us up on 01302 732500, alternatively have a more in depth look at our website here.