Images shown MT70 L4
Further to the release of the MT45 in 2017, Montracon has further extended its machinery carrier range, introducing the MT70 complementing the MT machinery carrier range with the MT39, MT45, MT45 A3, and MT45 L3
Now Montracon has further developed its MT range and introduced the MT70. Over the past year, Montracon has been working closely with its customers and dedicated engineering team to develop further models for its MT range. Montracon firmly believes the development of its machinery carrier range is a testament to the success of its MT45 and its approach to modular build configurations.
The MT70 is plated for operations up to 70tonne, on 4 high-quality axles. What makes this trailer truly unique is the lower approach 1450mm air neck ramp. This air neck ramp decreases loading and unlocking time drastically as there is no need to clip on or off. Other models in the MT70 range include MT70 A4 & MT70 L4 for more information on how the MT range can add value to your operation, give our team a call on 01302 732500 or click here.
Other key features of the MT70 include :
4000 x 1000mm Double Flip Hydraulic Ramps with Side Shift
Warrior EN 6000 Electric Winch
1450mm air neck ramp
2 Rear Steer Axles
BPW axles
Strobe lights
Work lights
Full set of outrigger timbers
and much more. Want to know more information? Give our team a call on 01302 732500 or click here.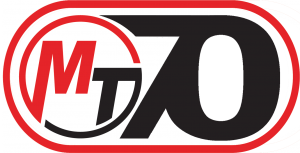 Jeff Wright, National Account Manager (special products) at Montracon said
"due to high demand for the MT45 three-axle trailer, it is now adding the MT70 to its machinery carrier range. Due to the successful modular approach of the MT45, the same ethos has been adopted within the MT70 product".
No matter what you are using the trailer for it has you covered from all angles. If you would like to find out any more information regarding any of the MT range, contact the team today on 01302 73500.
Commercial Motor
MT39 Launch