A generous donation from Montracon is helping the next generation of fire fighters train in even more realistic scenarios.
Doncaster company Montracon generously donated a semi- trailer to Humberside Fire and Rescue Service earlier this year and it was the central focus of today's RTC scenario for full-time firefighter recruits.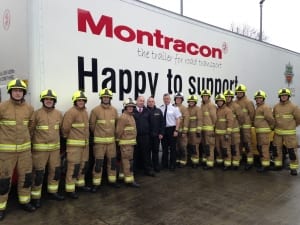 Representatives from the company watched the staged incident at the Immingham West Training Centre where 20 recruits are nearing the end of their 13 week firefighter course. Pictured in the centre are left to right: Watch Manager Lee Caswell, Dean Ridgill and Mark Leighton from Montracon and WM Simon Heath flanked by Red Squad new recruits.
The extrication of a driver from a car wedged under the trailer involved the recruits stabilising both vehicles, disconnecting power from the cab to the trailer and jacking the trailer to support its own weight before bringing the casualty out safely through the boot.
Watch Manager Simon Heath was pleased with the exercise:
'Extricating casualties from road traffic collisions is an all too familiar role for firefighters nowadays. Many call-outs, especially to main roads and motorways, involve large vehicles or HGVs. Montracon's generous donation of this trailer has allowed us to get used to the difficulties faced by having to stabilise such a large vehicle in a safe training environment. The new recruits have really enjoyed the challenge as part of their learning.'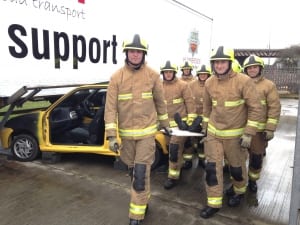 Montracon's Marketing Manager Dean Ridgill was equally delighted with how the trailer is being used:
'We have an excellent relationship with Humberside Fire and Rescue, with two members of staff at our Market Weighton refrigeration plant providing retained fire cover at the station in the town. When the idea was first mentioned of supplying a used trailer to the training centre, we were only too happy to help.
Montracon is celebrating its 40th anniversary this year so it has been great to 'put something back' and see one of our trailers put to such good use – there is nothing like training with the real thing!'