Tesco Curtainsider Trailers manufactured by Montracon
In addition to the Refrigerated Trailers, Montracon have manufactured and supplied a number of Tesco Curtainsider Trailers. These 13.6 metre curtainsiders are completely bespoke to Tesco. Montracon's sales and engineering team have been working closely with Tesco's fleet team over the duration of the supply chain.
The Curtainsiders are built from the wheels up to Tesco's unique specification, so are totally bespoke to suit Tesco's needs. Montracon are the only trailer manufacturer and supplier to date that supplies Curtainsiders and Refrigerated Trailers to Tesco.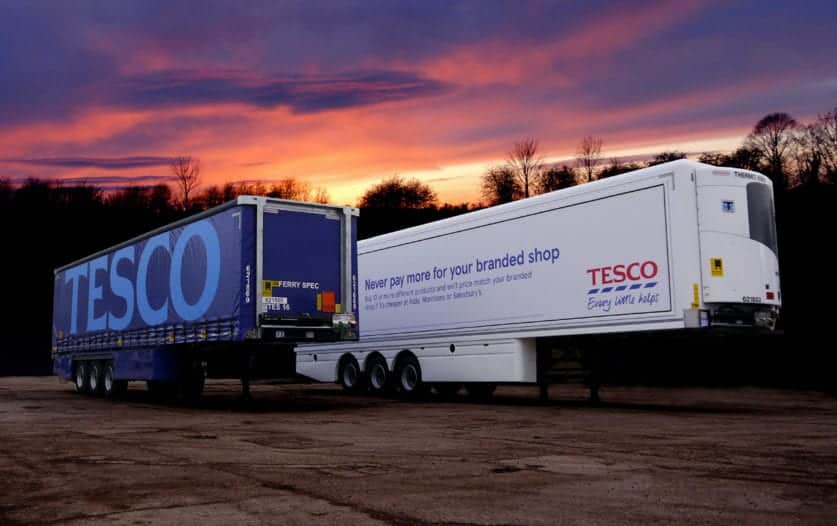 Whether its bespoke manufacturing, like Tesco or off the shelf, Montracon has the curtainsider tailored for the job. Operators have the choice from a straight frame single deck to a high volume step frame double decker. These curtainsider models are all available with a fuel friendly canted roof line and side skirts and are also mounted on either tandem or triaxle bogies.
All of our curtainsider models are offered with a full range of options designed to maximise your operating flexibility and your fleet efficiency. Our Curtainsider trailer manufacturing is of the highest engineering quality.
We are really pleased to be able to successfully supply Tesco with our 13.6 meter Curtainsider Trailers.
Call us on + 44 (0) 1302 732500 to find out more about our Curtainsider Trailers.