Montracon's Curtainsiders are Specifically Tailored for the Job
Montracon's Curtainsiders are manufactured with flexibility in mind.
All of our Single & Double Deck Curtainsider models are offered with a full range of options designed to maximise your operating flexibility and your fleet efficiency. Also, Montracon offers the Double Decker either as a straight frame or the more popular step-frame design. Whatever your operational requirements know that the Montracon Curtainsider has you covered. Click here to download our Curtainsider brochure or to explore the whole Curtainsider range click here.
Renowned for their quality, reliability, and longevity Montracon's Curtainsider has an enviable, proven performance record across the road transport industry. Here are just some of the reason why:
Low maintenance all bolted body construction with galvanised front and rear frames.

High-quality 900g/m2 2×2 weave welded strap curtains with Montracon designed heavy-duty buckle.

29mm phenolic coated plywood floor. 

Maximum cubic capacity
We also offer a postless body for clear loading operation. 
UK-based logistics business, Knowles Transport, has taken delivery of 20 postless curtain-siders from trailer builder, Montracon.
Knowles has invested in postless Curtainsiders to modernise its fleet, providing vehicle operators with clear, unhindered side access.
"Montracon is very competitive and the trailers we already have are certainly well up to the job hence why we keep coming back for more," said Knowles Managing Director, Tony Knowles.
"Montracon trailers have a reputation for their strength and longevity. We work the trailers hard and they have definitely stood the test of time," he said.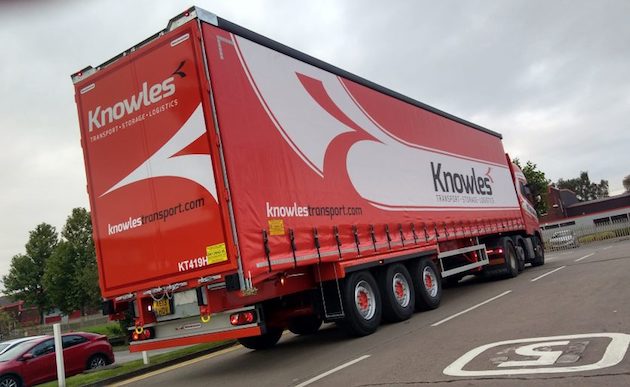 The Montracon Curtainsider range doesn't stop there either…

What unique selling points does Montracon Curtainsiders have?
"All Montracon trailers, not just Curtainsiders come with;"
One-stop-shop – we build the chassis and body
In-house paint system and applications
Tried and tested designs
Unique designs with strength in engineering
Listen to what you want with bespoke manufacturing
40 years' experience of trailer manufacturing
Experienced team of sales consultants and engineers
Montracon has authorised repair agents geographically positioned to cover the whole of the British Isles
If you have any questions or want to know more information, give us a call on 01302 732500 or click here.
Our team is more than happy to find the right solution to your trailer requirements.