Montracon Flats are an extremely versatile product range
Montracon exploits fully the versatility of the flat platform trailer. Specifically in producing a range of model derivatives, including dual purpose units that offer the flexibility to handle a wide and diverse range of payloads, a flexibility unmatched by any other trailer type. In straight-frame and step-frame variants, the Montracon flat can be supplied complete with twistlocks to carry ISO containers and/or with stanchions/sockets to contain payloads as diverse as logs and equipment for drilling rigs. In addition, it can be fitted with dropsides or be supplied with an integral coil well to carry steel rolls. Fixed or removable headboards are offered along with ENXL load rated headboards. Specification of the 'toe out' heavy duty side rave provides an alternative 'hook' for load straps. Other models include brick-n-block equipped with a rolling or centre mounted crane for handling 'heavy side' building and construction materials.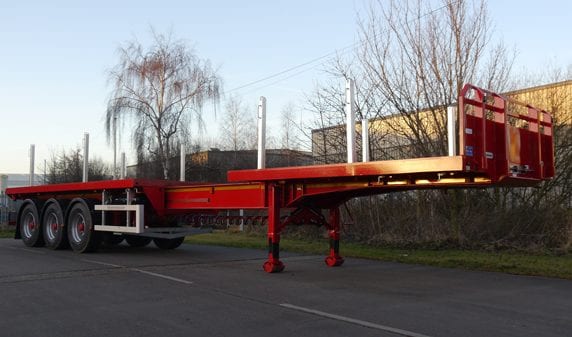 For specialist operations, Montracon offers the extendible or trombone trailer (in both urban and "standard" length options). It stretches to accommodate indivisible loads such as beams and bridge spans. Last but not least, Montracon offers a step-frame model including the universal with rear end beavertail option ideally suited for moving light plant and equipment. Add this to Montracon's reputation for low overall cost of operation, with durability and longevity forged over more than 40 years of supplying the road transport industry , building and construction industries, and the result is hard to beat.