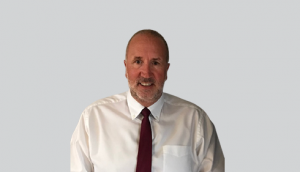 Robin Mchugh
South West Area Sales Manager
Hello, Robin McHugh here from Montracon Trailers.
I'd love to tell you more about the high-quality trailers we manufacture at Montracon. We offer one of the broadest range of trailers of all the European players to manufacture the right solutions for your business.
We invested heavily in our manufacturing facilities as a commitment to improving our quality to all our customers. A measured expansion program involving considerable investment in facilities and equipment has ensured increasing production efficiency plus steady growth to the point that today Montracon's manufacturing plants each rank with the best of any in Europe.
Building what is probably the widest range of trailers available from any of the major European players, the company prides itself on its production flexibility.
Regardless of the trailer model, order quantity, or whether you are a major fleet or an owner-driver, Montracon delivers you the trailer for road transport.
Find Your Perfect Match
Request a call from Robin
What do our customers think?
"I'm extremely happy with the quality of the curtainsiders that we receive from Montracon. Not only are the trailers of the highest quality, but the level of service really makes a difference as well. It's fair to say that the quality that Montracon provide really does fit in with our core brand values."
"This was our first order from Montracon and this was mainly due to the fact that Bob kept in touch with us over the last few years even though we were buying from SDC, the service from Bob was excellent and nothing was to much trouble. The service after the order was placed was again very good and excellent communication throughout."

Why Choose Montracon?
Part of Ballyvesey Holdings, which has a long history in trailer production and commercial vehicle sales, Montracon has made steady progress in the UK market over the last 40 years.
A blend of high technology, accumulated experience, and traditional trailer manufacturing skills. Montracon's engineering excellence is the benchmark for others to aspire to. Its hallmark being the company's use of the most advanced high-tech equipment available to complement the wealth of experience and traditional skills that the manufacturing and assembly line teams have accumulated.
Whether you require 
Box Vans
, 
Curtainsiders
, 
Flats
, 
Skeletals
, 
Tippers
 or 
Double-deckers
, 
no-one can beat our total production package
 and 
unique 5-year quality guarantee
. To ensure we are able to deliver such extraordinary service well into the future, unique graduate and apprentice training programs are already firmly in place. Our success is built on such continuity, along with our commitment to top quality products and comprehensive customer care. All of which you can enjoy simply by choosing Montracon.
Request a call from Robin